Meet Dr. Harper Rentz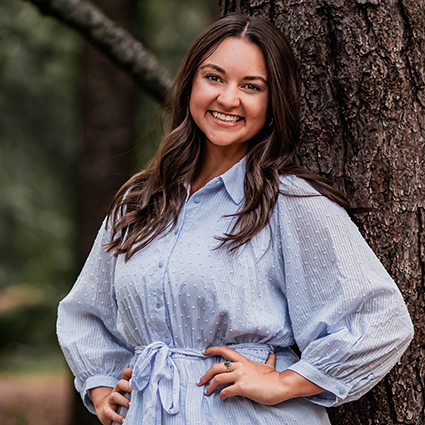 Dr. Harper knew from a young age that she wanted to pursue a career that had a positive impact on people's lives. After exploring various fields and shadowing opportunities, she discovered her calling in chiropractic during her senior year of college.
Deciding on the Chiropractic Path
It was her mother's positive experience with chiropractic care that piqued Dr. Harper's interest. Intrigued by the holistic approach and the potential to improve patients' well-being, she decided to explore the field further.
Through her first shadowing experience at a chiropractic office, Dr. Harper quickly realized the immense potential chiropractic had to offer. She witnessed firsthand the transformative power of chiropractic adjustments, even for newborns.
Inspired by this experience, she pursued a career in chiropractic and has since embraced the neurological and brain-based aspects of the profession.
Education & Professional Development
Dr. Harper earned a BA in Exercise Science with a Minor in Psychology from Auburn University in Alabama, where she developed a deep understanding of human behavior. She then obtained her Doctor of Chiropractic from Life University in Marietta, Georgia, in 2023.
Her commitment to professional growth is evident as she pursues further certifications. Currently, she is working toward obtaining her CACCP certification through the International Chiropractic Pediatric Association.
A Passion for Helping Others
Finding fulfillment in helping others is what drives Dr. Harper. Beyond providing chiropractic care, she strives to create a warm and welcoming environment for her patients, fostering a sense of community and personal connection. For her, practicing at Foundation Family Chiropractic is about more than just being a doctor; it's about becoming friends with her patients and supporting them as individuals.
During her internships, Dr. Harper felt immediately immersed in the vibrant culture of her practice. Patients welcomed her with open arms, allowing her to learn and grow alongside them. This supportive atmosphere, coupled with the opportunity to constantly expand her knowledge, solidified her love for chiropractic.
Outside the Practice
When she's not helping patients, Dr. Harper enjoys exploring the beautiful Charleston area, spending time at the beach, and engaging in various physical activities. With a voracious appetite for knowledge, she is an avid reader and constantly seeks new workout experiences.
Coming from a large family of nine siblings, Dr. Harper developed a passion for caring for children during her time as a summer sports camp counselor in college. This experience fueled her dedication to pediatric chiropractic care.
Contact Foundation Family Chiropractic today to book an appointment with Dr. Harper!

Dr. Harper Rentz | Foundation Family Chiropractic