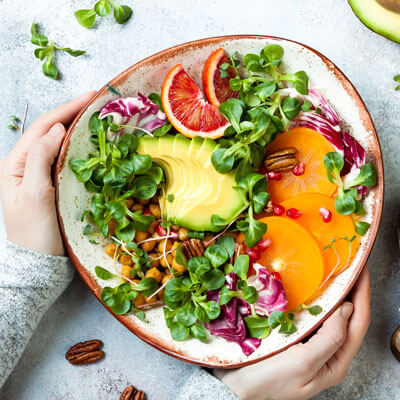 Nutrition
The old saying is true: you are what you eat. If you put good food into your body, your body uses the nutrients it takes in and runs more effectively as a whole. If you aren't getting the right nutrition, your organs won't function as they should, and you can end up with autoimmune conditions neurodegenerative disorders and more.
At Foundation Family Chiropractic, we provide nutritional services to help you meet your goals. Whether you're suffering from a health issue, energy loss, diabetes or want to get off your blood pressure or cholesterol medication, we can help you. We'll navigate the proper nutrition choices with you and give you realistic expectations of what you can achieve.
There is no one-size-fits-all approach when it comes to nutrition. If you would like assistance in making sure your body gets what it needs, we'll teach you how to eat healthy and make healthier decisions. One person may function better on a keto diet, while another one needs vegetarian, vegan or paleo. You'll be walked through how to figure out what works for you. We'll add and subtract as needed, giving you supplements that will help your body work more efficiently and effectively.
You'll learn how to make healthy substitutions for unhealthy foods. We think the right approach is to turn your good into a better, followed by turning your better into your best. We'll start off small, making sure you're not overwhelmed with any of the changes we make. New recipes, meal plans and other tools will be supplied to you, making sure you have the resources you require.
If you need testing done, such as for allergies or sensitivities, we'll be happy to help you arrange it. When we get the tests back, we'll go over the results to make your nutritional plan.
You might already be taking supplements and wonder if you're taking the right brand or dosage. We encourage our patients to bring in a list of the supplements they take. That way, your chiropractor can assess them to see if you are getting what you need. We'll look at additives, flavorings, colorings and check for other unwanted chemicals. Your dosage will also be evaluated to ensure you're getting the proper amount.
Call Now
Learn more about nutrition and how we can help you. Contact us today! Same-day visits are available.
CONTACT US

Nutrition Summerville, St. George, Mt. Pleasant SC |
Foundation Family Chiropractic